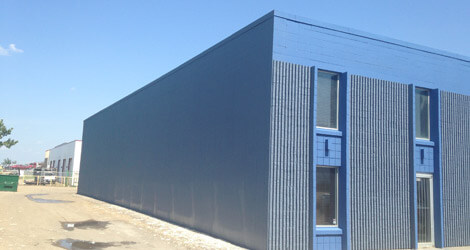 Do you want your home to stand out of the other homes in the street? Are you really concerned about the beauty of your premise? If yes, NKN Professional Painting Ltd. is the ultimate choice to go for.
We are a full-service painting company in Edmonton serving the residential and commercial clients with top-notch exterior painting services at affordable costs.Whether you want to get your garage or parking lot painted, our skilled painters are here to serve you.
Our aim is to transform the looks of your exteriors into a more beautiful and elegant outer space
High Quality & Durable Exterior Painting Service
At NKN Professional Painting Ltd., we utilize only the best quality paints and emulsions to beautify your home. Our experts pay careful attention to every detail to provide durable and long-lasting paint services. We fully prepare and repair each surface before applying paint to ensure a uniform and proper finish. Moreover, we keep the area tidy and focus to create minimal disruption to your home and routine. Our complete exterior painting includes:
Stucco & Concrete
Bricks & Stones
Doors & Windows
Fascia & Eaves
Gutters & Metal Flashing
Garage & Entry Doors
Deck, Railing & Patios
Iron Fences & Railings
Our Exterior Painting Process
When it comes to house or office painting in Edmonton, our first priority is to make sure our job doesn't cause any discomfort to you and others. Before starting with the project, we'll visit your place to do a pre-preparation, which includes:
Confirming paint color and details.
Moving patio furniture and potted plants.
Covering plants, trees, and decks.
Removing mildew and mold.
Filling holes or cracks in the walls.
Power washing to be painted surfaces.
Why Choose Us?
Being your local and licensed painters, we offer our clients a detailed cum written proposal which clearly outlines the things we'll do and the total cost of the paint job. We strive to give you an upfront and accurate estimate to prevent any future misunderstandings. Our painting contractors provide nothing but the best and complete the job within the decided budget and time.