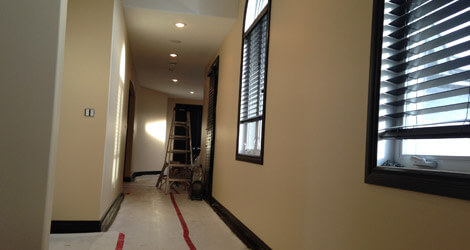 Are you planning to improve the appeal of your home or condo? If yes, applying a fresh coat of paint is the best way to enhance the beauty of your newly constructed dream property.
Whether you have recently purchased a new home or want to paint the existing one, NKN Professional Painting Ltd. in Edmonton is here to serve you. We are your local painters having years of experience in offering top-notch residential painting services to homes, condos, and apartments.
Make Your Home Look Stunning & Refreshing
If your home walls are looking a little dingy or outdated, a weather-proof paint application can quickly spruce up your place and is the ultimate choice to go for. At NKN Professional Painting Ltd., we can do anything related to residential painting, no matter, its interior or exterior. We offer:
Interior Painting
Exterior Painting
Color Consultation
Wallpaper Removal
Eco-friendly Painting
Home Painting
Apartment Painting
Condo Painting
We understand the importance of a beautiful living space and strive to provide high quality home painting. With quality workmanship, professionalism and attention to detail, a painting service done by our skilled painters tends to stay in shape for years to come.
What Makes Us The Right Choice?
Being your local painting contractors, we offer our customers fair quotes and accurate contracts with no hidden fee. We are known for building strong relationships with our clients and have earned an industry reputation by delivering 100% customer satisfied services. Our new painting contract includes everything from fees to material and labor. Some reasons to choose us include:
Reasonable Pricing
Professional Painters
Top Quality Paints
Satisfied Services
Licensed & Insured
Painting Guarantee